Why We Went
In October, our team of advisors visited the amazing country of Costa Rica on a familiarization trip! We visited many hotels, explored 3 different regions, ziplined over the rainforest, and enhanced our cooking skills with the locals. These types of trips are incredible as we get to experience everything for our clients. When you book Costa Rica, we know you'll be in great hands and your trip will be curated to your liking!
Where We Stayed
We visited three regions of Costa Rica during our trip! If you plan on moving around and seeing a lot during your trip- don't worry- we can handle the logistics for you including flights or luxury private car transfers!
The first area was Tortuguero! One of Costa Rica's most popular ecotourism destinations, the canals and rivers of Tortuguero National Park are a study in jungle, freshwater and marine biology. The park and the small town of Tortuguero can only be accessed by boat or small plane from San Jose. This is one of two areas in the country where you can immerse yourself in nature where you will be surrounded by water and very humid rainforest. This is a place where mother nature will surprise you at all times- from the moment we arrived at Tortuga Lodge & Gardens we spotted so many bird species, iguanas, monkeys and our first sloth! Considered one of the most important nesting sites in the world for the Atlantic green turtle, you can see these great creatures between July and October. SPOILER: WE SAW SEA TURTLES HATCH DURING OUR VISIT!!
Tortuga Lodge and Gardens includes 3 meals per day, coffee service, tea and snacks each afternoon PLUS a selection of a maximum 2 on-site experiences (shared with other guests) per day. The service is impeccable and the guides at the property have extensive training so your experience is top notch. There is so much to do and see- visiting this area will absolutely be a highlight of your time in Costa Rica!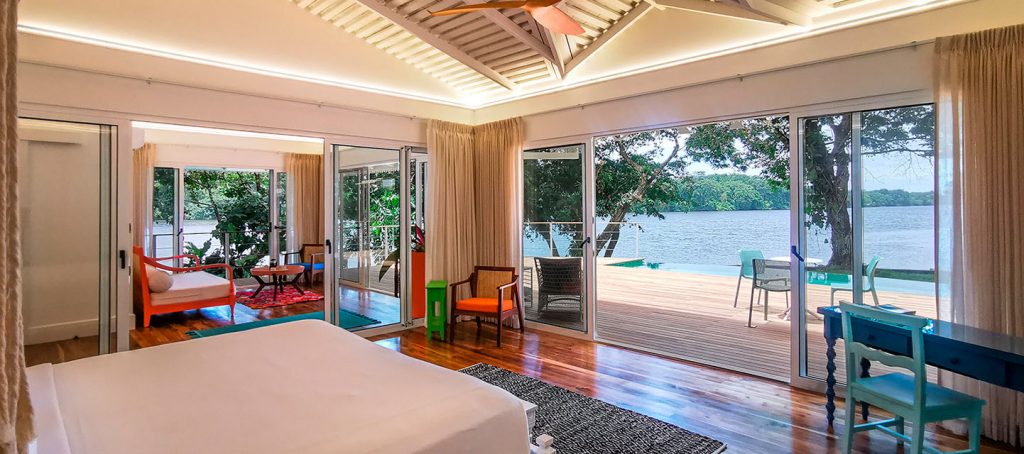 Next up, we took a quick flight to the Arenal Volcano area for our second stop. The volcano's perfectly symmetrical shape makes it a sightseer's dream, while its abundance of outdoor activities makes it an easy place to check things off your "must-do in Costa Rica" list. Visiting one of the nicest volcanoes in Costa Rica, rainforests, a lake world-famous for windsurfing and an incredibly diverse population of wildlife is just part of what you will find in this amazing area of Costa Rica.

Some popular can't miss experiences include the La Fortuna Waterfall Hike — where you can enjoy swimming in a freshwater lake with amazing surroundings, the hot springs, zip-lining, and visit Arenal Volcano National Park that is filled extensive trails to explore and marvel at the beauty of the volcano!

We stayed at Tabacon Resort- famous for its thermal experience. The thermal mineral river is unique in the Arenal Region and unparalleled in the world. You will enjoy Costa Rica ́s largest network of naturally flowing hot springs, fed by the Tabacón river and naturally heated by the magma found inside the Arenal volcano. Some other incredible features and special experiences of the property are:
The Spa at Tabacón taps one of the world's most beautiful locations and is known as one of the Top Eco-Spas in Latin America. Treatments are rendered in open-air bungalows secluded within the trees, to the sounds of gently rushing streams and local wildlife.
• The Ephemeral Table Dinner, a unique culinary chef tasting experience in a private rainforest bungalow, attended by your personal chef and server
Our final stop was Guanacaste, and the vivacious town of Conchal. This area offers a fusion of beautiful seashore, warm Pacific breezes, great restaurants and hotels, exciting gift shops, and fun nightlife. Conchal is close to the Las Baulas Marine National Park which is one of the most important nesting points of the huge leatherback sea turtle in the world.

We checked into the gorgeous W Costa Rica! This property is a modern oasis and lively resort. It is surrounded by exotic landscapes and sandy shoreline. Admire panoramic views of their reserve from the blissful serenity of plush bedding before splashing into your suite's private plunge pool. After an action-packed day of golfing, surfing or sunbathing, or spa… you'll be hungry! Indulge in an array of decadent dining at one of their restaurants before dancing the night away at Zona Azul Beach Club. When the sun goes down the party is just getting started!
What We Loved
We absolutely LOVED the food. Every meal was amazing and full of fresh produce and a ton of flavor. I'm still craving Gallo Pinto (Costa Rican Beans and Rice). Cooking in a local's home kitchen was such a highlight for us – making our own salsas followed by an incredible lunch of local favorites that were prepared over a wood burning stove. The next day we visited a gorgeous family owned farm and had a traditional Tico Picnic with all dishes prepared with ingredients picked fresh from the garden earlier that day. We also spotted the cutest Sloth hanging out right in a tree next to us while we enjoyed our lunch!
What We Did
Every day was different than the last- so much to do, see, and explore in this gorgeous country. During our stay we enjoyed many activities:
Wildlife Safari Boat Tour
Hiking on the trails of Tortuga Lodge
Visited Tortuguero Village
Witnessed Sea Turtles Hatching
Private Culinary Experience in a local home
Traditional Tico Picnic Lunch and Farm Tour
Tabacon's thermal experience and natural hot springs
Zip Lining & Sky Tram Ride
Walked across a Hanging Bridge
Sunset Dinner at Flamingo Beach
We cannot wait to return… but first let's get some of you there to enjoy it for yourself!